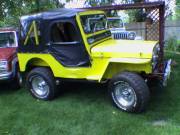 This article about Randy Lawson's build appeared in the 1994 Off-Road Magazine.  It took Randy 15 years to redo his CJ-3A.  Unfortunately, I don't have a before picture.  Some of the details not mentioned in the short article on this page include the following:
Randy has added a second little window below the wipers on the windshield.  I assume this is custom as I've never seen it before.
Randy changed the look of the cowl on the engine side by placing a chromed or polished plate across it.  It makes it look very clean.
It appears Randy padded the dash (you can see this here and here ).
The Jeep may be registered as a CJ-3A, but the cutouts on the passenger side suggest an M38.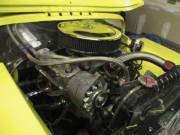 "It is not that uncommon in the world of four-wheel drive to hear of a buildup project that takes a few years, but randy Lawson's 15 year fine-tuning is more on the order of evolution than customization.
The dedicated Colorado Springs, Colorado, resident tore apart his  1948 Willys CJ-3A the first time when he was just 15 years old. He dove that incarnation for two years, then decided his Flat fender rebuild needed a Phase Two.
The second segment began with the acquisition of a frame from a
1972 CJ-5, which was shortened, boxed, and enhanced with a 15 gallon aluminum fuel tank."