About Me
In my 40+ years of life, I've lived all over the US, traveled internationally, earned a graduate degree (MBA), and fathered 3 great kids and am married to a wonderful woman.  As an entrepreneur I've built some companies and failed to build others.  I've lived in spectacular, beautiful places and been homeless at other times.  Life has not been dull.
I have a wanderlust I cannot explain, but can trace as far back as my great great grandfather, Anton Eilers, who traveled all over the U.S starting in 1859.  In fact, I can hardly travel cross country without wondering what it would be like to go back 150 years, climb on a horse and travel through a fenceless West. I currently with my wife Ann in Pasco, Wa, but given I've lived in 24 locations in the past 28 years, I suspect it isn't the last place we'll live.
My Jeep Background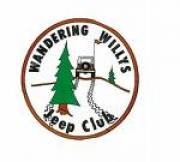 My parents, along with 9 other families, started the Wandering Willys Jeep Club in the Seattle Area, where I was born. I grew up bouncing on my moms lap as we jeeped over trails such as the Naches Trail. Mom says I slept well while we bounced over the rocks, but as soon as we stopped, I was wide awake.
Growing up it always seemed to me we'd be out doing some jeep event on the weekend, which seriously interrupted my cartoon watching (that's the way I remember it anyway). Our club planted trees after forest fires, showed off our jeeps at the mall, participated in parades, attended playdays & conventions. My sister and I hunted for easter eggs alongside other club members' kids at the Beverly Sand Dunes one Easter. There were the monthly club potluck meetings during the summer at Sammamish State Park.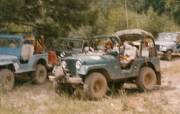 The first Eilers Jeep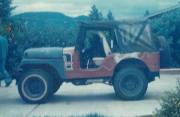 The post crash CJ-5
(dad still had work left)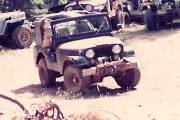 Finished CJ-5
I remember sitting on a hill (in the early 70's?) watching the Yakima mud races with a sweeping view of the entire course. And then there was always Summer Convention, which was a huge event for racing, relaxing and socializing, bringing together jeep clubs from throughout the northwest. Some events were for racers and some were just for fun, like driving backwards, carrying water through a course, balancing on logs and more.
Then, in about 1975, when I was 10, our involvement in jeeps came to an abrupt halt with my father tumbling his jeep down a Leavenworth hill end over end twice along with 3 barrel rolls. His driveline had broken heading up a hill and, despite his efforts to pull over onto the side, the jeep wouldn't stay and his downhill roll began. Fortunately, he had recently installed a full cage, which were becoming more common about then.
Though he suffered only a physical scratch, Dad never really recovered from the tumble. Despite his successful effort to rebuild another CJ-5 from various parts (I naturally assumed that all fathers could do all the things necessary to build a jeep), he never again was comfortable on side hills. In fact, when on the occasions when we did go jeeping, I drove much of the time.
During these years, while we remained with the jeep club, we were much less involved with the jeep club. When I hit 16, we were about to quit the club altogether, when I decided to drop by a jeep club event.   That's all it took, the jeep bug bit me and I wanted to try racing. I started driving dad's jeep to school every day, even teaching my girlfriends how to drive it — actually, teaching some of them how to drive a stick was the scariest thing I ever did in a jeep!
At 19, I decided I wanted my own jeep to race and trail drive.  Because I had always wanted a flatfender, I decided that's what I would build.  About this time, Al Carrol, who was a busy guy in the jeep world in the Seattle area, let me start rebuilding transmissions and transfer cases for his clients.  About the same time, he repossessed an old fiberglass racer.  One day I was dropping by Al's with dad and I saw this old rusty jeep sitting on his trailer.  It was love at first site.  I did a deal with Al to get it in exchange for  work.  He also set me up with a Dana 30 for the front end and a mail  jeep rear end with some special spacers so I could run CJ-5 30 spline axles.  He said the set up would work great.  He was right!
From the green racer (and two other jeeps) I built a fiberglass flat fender jeep with a hopped up v6, a t-15 tranny, outboard rear springs, reversed front springs, a dana 44 with a detroit locker from a mail jeep, an open dana 30 in the front, and more. I learned a ton, doing all the rebuilding, planning, welding, rewiring, and anything else by myself (the only thing I didn't do was rebuild the front and back axle housings). It was fun to drive, race, and jeep.
Eventually, college and practicality intervened, so I chose to sell my 'baby', swearing I'd build another one some day. Well 'some day' has arrived and Lost Biscuit was born.
Building my First Jeep

I eventually named my jeep the Great Escape as it was an outlet for personal adventure. I could pack everything I owned in the back and go wherever.
On the right is a picture of my very first jeep. Sorry for the blurriness, but it's all I've got. Even though I drove dad's CJ-5 during my last year in high school, I really pined for a flatfender. So, for graduation, my parents bought me this beat up CJ-3A.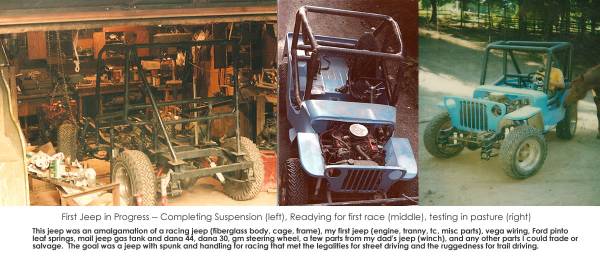 My first step towards building the jeep I wanted was to take apart the 'blurry' jeep. Next, I bought a stock CJ-2A, which I eventually traded for parts I needed. Finally, I got a deal on a beat up fiberglass racing jeep (the green one mentioned above) that, according to the owner who I did meet, had been built in a month (and I believe it given the torch holes in lieu of drill holes all over the place). You can see the transformation in the pics above.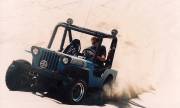 I got it completed in Spring 1985 and raced it at 5 or 6 races over 1985, even making it into Top Eliminator at Summer Convention 1985. Somewhere there exists a tape of my racing that year, as well as a roll I experienced in my pasture, but I misplaced it during one of my many moves between 2001-2004.
A few days over the Naches
In 1986, at the age of 21, I decided to spend the summer working in the San Juan Islands. Though I didn't race, the jeep got plenty of use as I explored all over the islands, becoming known as Jeep Dave. In early September, after the busy summer rush, my buddy Cullen and I decided to head to the mainland and do some jeeping. That great adventure over the Naches is one of the adventures I share in my book  Finding Virginia: Adventures Along the Rocky Trail of Life.
Life without Jeeps
By 1992, with a move to Wisconsin on the horizon, I decided to sell the jeep. I advertised it in the truck and trader magazine. I was delightfully surprised when it made the cover of the magazine (I still have the cover — but I don't have the original picture).
Of course, I always thought that I'd own another jeep, but never imagined it would take another fifteen years to get one.  Grad School, raising kids, many moves, and working hard kept me from owning a jeep for a long time.
Lost Biscuit is born
In 2007, after some entrepreneurial ups and downs, I began to build another jeep I call Lost Biscuit. My intent was to building a jeep similar to my first — fiberglass, modified suspension, good roll cage, and an all around fun vehicle. I chronicled the reasons behind that and the purpose for building eWillys in Finding Virginia as well.Latest Events
In 2013, my wife and I went on tours of the Southwest (see thread here) and the East Coast (see thread here), meeting readers, giving presentations, and receiving unexpected rewards. We enjoyed our trips immensely and met jeep lovers from all walks of life. Between the two trips we traveled over 16,000 miles!
In the summer of 2013 I also completed my second book, The Amber Panels of Konigsberg. You can learn more about this novel and about the famous Amber Panels.
Here are a couple photos: Below is me, age 20, after a race at Summer Convention 1985 at the ORV park in Near Olympia in my first jeep.
This is a photo from 2012 with my kids in Lost Biscuit.