UPDATE 3 (10/23/2012) : I discovered another recording of this song by someone other than Spike Jones:
UPDATE 2: WillysJeep has a nice images of the musics and lyrics cover that includes a rough version of a BRC-60.

UPDATE:  Dave reminded me that it was the 45s and not the 78s that needed the center gizmo.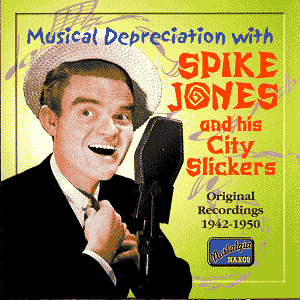 Tom's wife found a 1942 recording called Little Bo Peep Has Lost Her Jeep a few years ago in a stack of '78s at a garage sale.
What's a '78 you ask? It seems I don't remember them as well as I thought.  What I remember about '45s was the little plastic gizmo you had to place in the middle of them so they would play on a phonograph.  Here's a bit of history about the '78 from wikipedia (for better or worse, the US was once again bucking the world trend).
In America in 1900, the two leading manufacturers of flat records were Columbia, which used 80 rpm as its speed, and Victor, which used 76 rpm. Since one company's records were playable on the other's machines, it is only logical that the eventual standard speed would be in the middle.
By 1925, the speed of the record became standardised at a nominal value of 78 rpm. However, the standard was to differ between America and the rest of the world. The actual 78 speed in America was 78.26 rpm, being the speed of 3600 rpm synchronous motor (run from 60 Hz supply) reduced by 46:1 gearing. Throughout the rest of the world, 77.92 rpm was adopted being the speed of a 3000 rpm synchronous motor powered by a 50 Hz supply and reduced by 38.5:1 gearing. (wikipedia)
So, now you know!  Tom (or his wife?) converted the record into a MP3 which you can down load here. You can also read the lyrics they transcribed below.