This thread is being kept for discussion and information purposes.
Oldies but goodies…
"Hey you jeep racers I have 6 dogs 4 with tubes in great shape, and 2 in fair condition, 6 lug chrome spokes, mounted ready to go! only used on the weekends! with only 4 weeks till racing starts you need tires! or if your a jeeper who needs a good set of old school tires please write!"
Formula Desert Dog History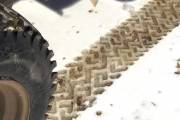 Anyone know the history of Desert Dog tires?  Apparently, according to the CJ3B Page Website (See comment at the bottom of CJ3B Page), "Louie says his Desert Dogs were the first out of the mold, given to him for testing and photographed for advertising in the 1970's.".   "Louie" is Louie Larson, aka Gopher 4×4.  By his comment on the same CJ3B page, it sounds as if he still has the same tires.
I'm sure I've seen some branded Firestone, some branded Armstrong, but most  are branded just Formula Tires. I have 3 kinds of desert dogs and all are branded Formula Tires.
Here's info from a forum, "I have numerous old advertisements for the Desert Dog Tires and all say Formula on the sidewall and all over the ad, but down at the bottom in small print it says they are manufactured Armstrong. I do not know the specifics on the tires, but my guess is that armstrong may have dropped the Formula brand and rebranded the tires as their own. "
And another comment from the same page, "We raced on Armstrong's for several years. They were a major supporter and supplier of tires at the races. …. Armstrong offered several tires that we raced on at various times: Norseman, Tru Trac (sp), Desert Dog, and Desert Dog Formula. Later Armstrong started selling some of the tires under the Formula name. They were a good tire, and a lot of big teams raced on them. Back then there were several major tire companies involved (Armstrong, Goodyear, General, BFG, Yokahama, Cooper)"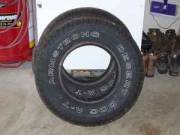 Armstrong Desert Dog AT —  There are some All Terrain Desert Dogs produced by Armstrong that have the same type of lettering as the Formula desert dogs, but with decidedly different tread. Click on picture to see lettering.