**OLD POST PRESERVED FOR COMMENTS**
UPDATE: This thread is being kept for discussion and information purposes. See the updated post here.
Oldies but goodies…
"Hey you jeep racers I have 6 dogs 4 with tubes in great shape, and 2 in fair condition, 6 lug chrome spokes, mounted ready to go! only used on the weekends! with only 4 weeks till racing starts you need tires! or if your a jeeper who needs a good set of old school tires please write!"
Formula Desert Dog History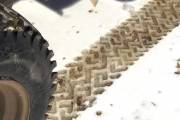 Anyone know the history of Desert Dog tires?  Apparently, according to the CJ3B Page Website (See comment at the bottom of CJ3B Page), "Louie says his Desert Dogs were the first out of the mold, given to him for testing and photographed for advertising in the 1970's.".   "Louie" is Louie Larson, aka Gopher 4×4.