UPDATE: After spotting an ad I hadn't published yet (seen below), I realized that there was Desert Dog history that existed among various posts. So, this combines all that into more of a narrative.
==========================
If you have read eWillys for any length of time, you know I've been a fan of Desert Dog tires for years. I still have eight desert dogs, some solid lettering and some outlined, as shown in the pic below:
According to Louis Larson, the Desert Dog tire was launched in 1970. He knows this, because in 1970 he became the first person to test out the new style of tires (see the bottom of this CJ-3B Page article). The tires were given to Louis for testing and photographing.
David Maxwell, a former Formula tires salesman, reported that the tires were always made by Armstrong, but marketed through the Formula brand, the president of which was a friend of David's (see David's comment and many others on this post). The company made a large number of retreads, so a number of tires also had Firestone on the side, too.
The tires proved popular quickly. Les Schwab was a big fan of them and ran them on his jeep (jeeps?). He also sold both new and retread tires out of his main shop in Prineville (see Les Schwab's biography here).
For PNW jeepers, the tires were a perfect blend for racing and for jeeping and the varied terrains of the PNW (sand, gravel, rocks, mountain sides, mud, etc … as Joe1148 highlights in his comment here .. though I can attest to it as well). On the downside, their road life was short (some estimate about 10k miles) and they tended to be noisy. The tires' popularity gained them prominence, and soon they were added to charts showing tire options, such as this January 1972 ad:
By 1973, Desert Dogs were being advertised in Four Wheeler Magazine (ads at the bottom of this post) and sold across the country. This Smith Jeep, Inc. ad from North Franklin, Connecticut, in the July 1973 issue of Four Wheeler Magazine is one example of an East Coast offering:
Eventually, the Formula brand expand its offering. I don't know when each of these tires was introduced (I think this ad is from 1975, but have to confirm it), but Formula was soon offering more tires choices:
DESERT DOG X-TRA RADIAL: I think I first saw these treads at a Summer Convention in La Grand Oregon, circa 1972-1973. They never seemed too popular, even back in the 1970s.
Here's one example of the tread:
DESERT DOG PCV: This variant of the Desert Dog was introduced in 1973. PCV is an initialism for "Pickups, Campers, and Vans".
DESERT DOG II: There seems to be a rare cousin to the PCV: the Desert Dog II tire. I've only seen these tires once in an ad for two tires out of Port Huron, Ohio. I don't know when they were introduced. To me they look like a pre-branded version of the PCV:
ARMSTRONG BUYS FORUMLA IN THE EARLY 1980s:
In the early 1980s, the Formula brand was sold to Armstrong, I believe it was at this time the company left the solid letter Dogs behind in favor of the "outline" style of lettering for the side walls. When I bought a brand new set in 1985, I could only find them in a single gas station in Seattle (perhaps they were for sale elsewhere, but I couldn't find them); open lettering was the only style I could get at the time and even then Dogs were getting rare.
ARMSTRONG DESERT DOG ATs: There were some All Terrain (AT) Desert Dogs produced by Armstrong that have the same type of out-lined lettering as the other Armstrong Formula desert dogs, but with decidedly different tread (unfortunately, not the best photo):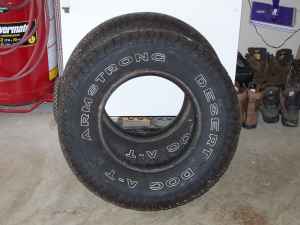 After Armstrong discontinued the Desert Dog line of tires, the molds seemed to disappear. I thought I had tracked down the molds to Pirelli, but it's been so long that I can't remember where they are now.
Curiously, Armstrong is offering a new type of "Desert Dog", called the Armstrong Desert Dog MT, though the tread piles in comparison with the old ones: https://tirestreets.com/products/armstrong-tires-desert-dog-mt
TREAD CONSISTENCY: The consistency of the Desert Dog tread appears to have varied considerably over the years. Some tires appeared to have tighter spaces, wider zig-zags, and longer "Vs" than other tires (even among the 8 dogs I have, the tread varies). I haven't found any method for identifying why/when the tread varied so widely over the years. Maybe some dealerships customized their molds?
=================
Over the years, some folks have confused these Mini-Terras and Desert Dogs. Mini-Terras, were referred by that name due to their similarity with Goodyear Terra Tires. They were also called other names such as  mini-terrors, trail-blazers (see Fullerton Tire ad near top of this post), among other names, including most recently, recaps called Ugly Dogs.
OTHER ADS: Below are more Desert Dogs Ads. Starting in 1973, with multiple Four Wheeler issues, comes this ad:
This ad appeared in the February 1974 issue of Four Wheeler:
From the very first issue of the PNW4WDA TriPower Newspaper in September, 1974, Desert dogs played a role. This advertisement was an advertisement for both new and recapped Desert Dogs. Thanks to Mitch and the WWJC Scrapbook for this find!:
From a May 1975 Four Wheeler magazine comes this back cover ad:
This 1978 ad from Four Wheeler Magazine highlights the PCV tires:
This isn't an ad and I don't know if this iron-on patch is actually vintage or not, but it didn't stop me from purchasing if on ebay years ago:
Eventually, the Formula brand was sold to Armstrong and the new owner made some Desert Dogs (as seen in the back left of the ad below). The company also sold other non-Desert Dog Formula tires, as this 1987 ad from Four Wheeler highlights::