UPDATE: 08/12/2010: I've added a link and section regarding the rack and pinion mod implemented by Sam.

UPDATE 01/19/2010: Here is a link to the post about Lawrence Elliot's nice little mod of the bell crank to eliminate sloppiness.  This is a simple way to improve steering sloppiness while keeping everything else stock.
UPDATE:  The picture below is how NOT to update your the steering in your jeep! I found a picture of this crazily creative solution for updating the steering mechanism on an early jeep at JP Magazine, so I've added it to a post I made about steering upgrades last April.  I've also updated this post with images from two different jeeps that installed a saginaw non-power unit within the engine compartment and can be found under section 3B.
Modifiying the steering system of early jeeps might be one of the most common upgrades around.  It often follows the upgrade of the engine to a V6 or V8, right after the jeep owner discovers how much work it is to turn the wheel while jeeping.  So, here's my list of steering options:
1)  Keep the stock setup (but this is often impractical when upgrading to a v6 or v8).  This is a Ross worm/sector manual steering box and a drag link that connected to a frame-mounted bellcrank.
2)  Swap in a Hudson steering unit.  I exchanged emails with with a reader named Larry who had one of these in a CJ3B and loved it (calling it the sweetest driving jeep he'd ever owned — he planned to put one in a  1949 CJ-2A he just bought).  I've never tried the swap nor tried driving a jeep with the setup in place. I doubt these would work on a MB/GPW setup. (To the right is an image of a Hudson steering wheel in a jeep from Jp Magazine.)
These can still be found using craigslist and junkyards. Here's a quote from the CJ-3B site.
"Forget the power steering and get a 1949-1954 Hudson steering set up. You can swap out the whole steering column or just machine the steering box to fit your original steering column. They both used Ross steering boxes, but the Hudson used a tapered roller bearing with a different gear ratio, making it feel just like power steering and gives you the tighter turning radius."    http://cj3b.info/Tech/Upgrades.html
3) Swap in a saginaw or GM steering box that is not power steering.  I had one of these in a jeep my parents bought me (before I rebuilt it).  However, even with a lightweight v6, it was a pain to steer when the jeep was not moving.  To install one of these boxes requires creating some kind of sturdy mount so that it will mount against the left front frame member near the bumper.  Then, likely, you'll have to replace the front cross member (usually with heavy angle iron with a V cut into it) to accommodate the steering column rod.  Finally, you'll likely need to replace the steering column itself with a column that will easily connect to the new steering box.  Here, Dan documents his swap of a Hudson steering mechanism with a manual saginaw system.
3b) Swap in a saginaw or GM steering box within the engine compartment. 
I've not seen this done in person, however, it looks like a slick way to install a newer box without having to cut either the grille, the crossmember, or both.  I would think this would only work with a 4cyl engine though.  Maybe a straight six would work as well. You can read more about this at the Pirate 4×4 website (scroll part way down the page to see the pics).
4) Swap in a saginaw power steering box. Swapping in the power steering requires everything in #3 plus you'll need to route the two hydraulic steering lines  through the grill, under the grill, under the the new crossmember or through the crossmember (which is what I am going to do __ see attached pics).  I've not met anyone who was sorry they had powersteering, especially with a v8.  Here's a nice clean version http://cj3b.info/Tech/SaginawSteering.html (note: though I haven't seen many jeepers move the crossmember exclusively to the front of the frame as shown in that link.  If you are running a meaty v8, I'd think that with the older frames you'd get some serious twisting.
Once the steering unit is installed, you'll still need to run those pesky hydraulic lines.  I wrote two posts on this.  Here's the First Post, which examines what a Toyota Land Cruiser owner did to run custom lines.  This Second Post shows what I did.
In my case, you can see what I did by reusing the cj5 power steering bracket. When I built my first jeep, I took a 1/2″ piece of flat steel, drilled the mounting holes for the steering, welded the plate to the front left frame and then used some spacers so that the powersteering would fit correctly.
Below is how I've connected my hydraulic saginaw unit to the stock CJ-5 mount, which mounts to the frame with four bolts.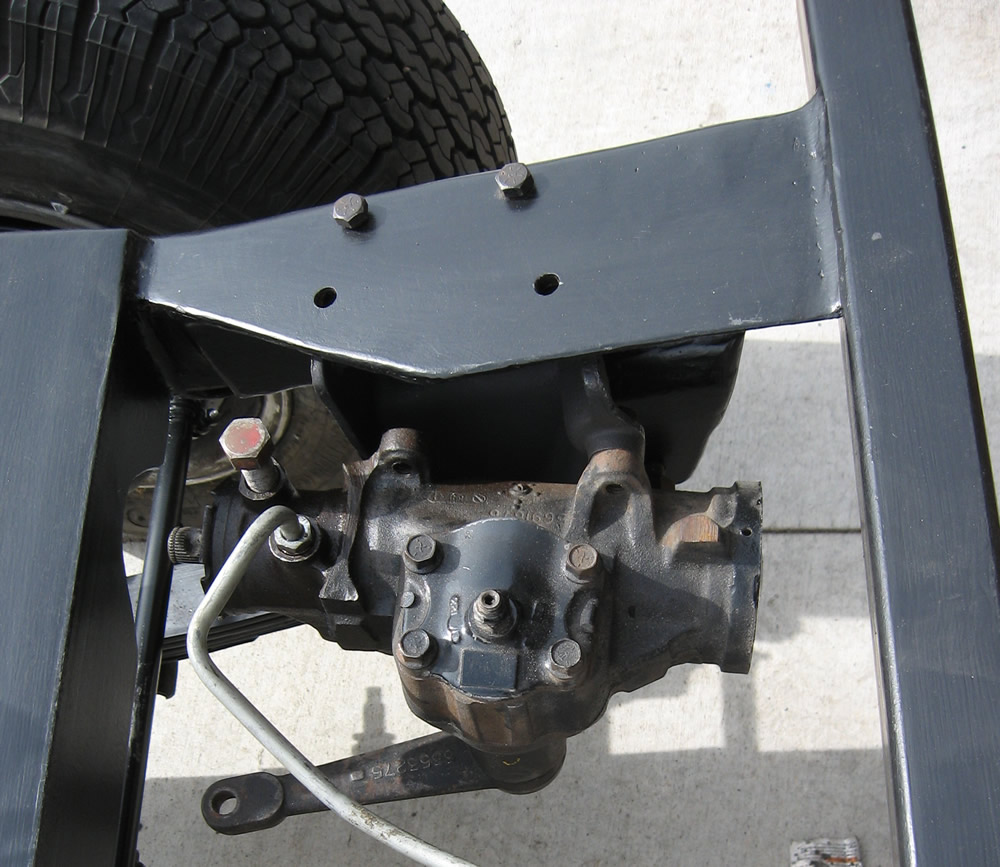 5) Hydraulic steering. I have not driven a vehicle with this system, but I noted last august that several jeep racers are now using this system.  Essentially, the steering column direct connectivity to the steering rods is replaced with a pure hydraulic system.  You can review an article here.
http://www.fourwheeler.com/techarticles/suspension/129_0611_hydraulic_steering_tech/index.html
6) Rack and Pinion Steering. At Flatfender Willys, Sam has been implementing an off-the-shelf rack and pinion system that easily improves the steering of flatties without the hassles of adding hydraulics. Learn more here.
If I missed some steering system with which I'm not familiar, please let me know!