The Goal .. take apart my Dana 44 housing and install a Detroit Locker along with new bearings and seals. Sounds easy enough, right?
When building my last jeep, I did not have to rebuild either of the axle housings. In the rear I had a Dana 44 from a mail jeep. Mail jeeps come with detroit lockers: note that the housing is a little narrower than a standard jeep by approx 2". To fix this, you can have some shims machined that will allow you to use standard flanged jeep axles.
Fast forward to the new jeep. I had a Dana 44 I knew nothing about and a detroit locker I wanted to install inside it. I figured this would be a good opportunity to learn about ring and pinions; and, learn a thing or two I did!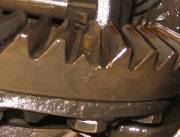 The First Issue – Broken teeth
Naturally, the first step was to pull off the housing cover and examine the condition of the gears. Unfortunately, the news was not good. I quickly discovered that I had a very broken tooth on the ring gear.
Interestingly, there was no evidence of broken pieces in the oil. This lead me to suspect that the previous owner may have discovered the damage while changing the gear oil and 'forgotten' to mention it to me. Also, once I pulled everything apart, I would also find the pinion gear broken as well.