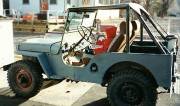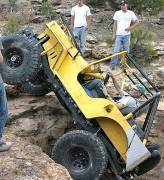 Louis Dawson recounts, in this four page article on code 4×4, his 12 year building process for Bumble Bee, a 1947 CJ-2A. Started as a restoration project, Louis discovered he'd rather focus on trail performance.
Louis sums up the experience with the following quote: "Our ensuing 12-year restomod of "Rumble Bee" includes a huge amount of fun, plentiful stupid and expensive decisions on my part, and a final result that retains the flat fender look and feel, while being competent and safe enough on the trail to peg the fun meter. This "retro" project includes little of the latest tech — it's mostly older solutions that reached their peak a number of years ago, but it works."
On additional feature I like is the "what we did right" and "what we did wrong" on page 4 of the article.