This excerpt is from an article title White Mice, which is about policing European highways during and after the war.  Included is a MB painted in the distinctive colors:  White vehicle with a black hood.  If you go to the website article,  you will see a variety of cars with this motif.  This would make an unusual restoration project.
"The 62nd Military Police Company was created on November 30, 1943 and activated in North Africa a day later. Originally, it was a standard combat MP unit, and participated in the campaigns in France, the Rhineland and Ardennes-Alsace. Following the end of the war, the unit was reorganized twice, first as the 62nd Military Police Service Company in June 1948 and then as the 62nd Military Police Highway Patrol Company on September 20, 1951, when it was reattached to the regular Army forces occupying American Zone of Germany.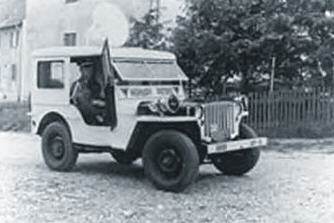 Corporal Edward Olson in a Highway Patrol Willys MB. Note the permanent roof and the large combination siren-warning light on the fender.
Unlike standard military police units, the Highway Patrol was created not only to enforce laws and regulations, but to handle other duties typically handled by civilian police agencies. These included assisting motorists and promoting traffic safety. On a given day, a trooper might work traffic, investigate a crime, or perform escort duty for a convoy. Or all three, just like his civilian counterpart."